At Mezzo we strive to embody the philosophy of Eat well, Love Life. For us, healthy eating is a way of life, not a diet.
Everything on our menu is cooked fresh daily in our kitchen, from scratch, using the finest quality natural ingredients. Nothing is bought in pre-made or processed.
We believe strongly that what we consume plays a huge role in both our physical and mental wellbeing and that what we eat strengthens both.
Mezzo was founded in 2021 by Skevy and her partner, David. She has spent her lifetime in the hospitality trade and even trained at Richard Corrigan's Michelin starred restaurant in London. Skevy is passionate about great tasting food, and the idea of Mezzo is a pick 'n' mix menu, either via our in store buffet service or bespoke bowls. Mezzo in fact, is a play on the word 'meze' a favourite of Skevy's from her native Cyprus.
Customer Service is paramount at Mezzo and, Skevy and team are on hand to make sure everything with your food is just perfect!
Mezzo is also a licensed restaurant and serves a range of alcoholic drinks for your convenience and enjoyment.
Follow us on social media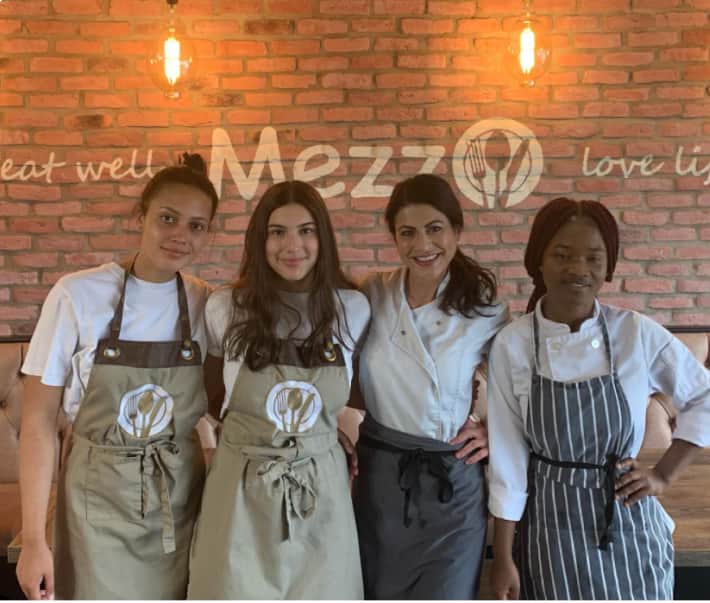 Our complete menu gives you everything you need
Select your bowl size from XS £5.95, Small £7.45, Medium £9.45 or Large £10.95

Select your choice of protein from either Chicken Breast, Grilled Halloumi, Falafel (vg), or Salmon Fillet (£1.50 supplement). Double up on any protein for additional XS £1.50, Small £2.15, Medium £3, Large £3.75, and Salmon £4 flat

Select your choice of base(s) from either Wild Rice, Baby New Potatoes, Teriyaki Noodles or Mediterranean Couscous (all vg) – add a 2nd base for £1 extra

Select your side(s) from either Basic Salad, Steamed Vegetables, Slaw, Quinoa Superfood Salad or Lentil Dahl (all vg) – add a 2nd veg/salad for £1 extra

Choose your choice of dressing from either Honey Mustard, Yoghurt Mint, Chipotle, Mayo (vg), Sriracha (vg), French (vg), Sweet Chilli (vg), Balsamic (vg). Your bowl will be prepared for you by our kitchen while you wait.
Authentic healthy eating
in Derby
Our bowls are prepared fresh for each individual order, bespoke for you. All of our proteins are cooked naturally with no added oils. Our chicken is steamed, our falafel are roasted and our salmon is oven baked on a pan fried setting to ensure great taste and crispy skin. Our halloumi is prepared on a griddle.
Our Click & Collect service is perfect if you're in a hurry, don't want to wait or have a large order. Just order and pay on-line or via our App, then arrive to collect your order at your chosen time. Simples!
Our bowls start at just £5.95. This, for a meal that has been cooked and prepared solely and fresh for you. Chicken, potatoes and veg with dressing for example, for the price of a sandwich. This is seriously fine dining quality and taste at fast food prices.
Being passionate about food means we insist on the best in quality produce. Everything we purchase is sourced through local suppliers, which both maximises freshness and minimises our impact on the environment and supports the sustainability of our communities.

Our packaging is compostable, made from plants and designed for the circular economy. Please go to Biopak.com for more details.
Lets see what our amazing customers have to say​